Applications
BUNDREX® steel fibers responding with optimal solution by carrying full product line-up.
Steel Fiber
BUNDREX® is an ideal concrete reinforcement which shifts the properties of concrete from brittleness to ductility, and increases toughness and resistance to cracking by drying shrinkage and plastic shrinkage.
SUPER BUNDREX®


Tensile Strength (1,100~1,800MPa)
Arched Fiber, new shaped and patented steel fiber increasing the performance of concrete by up to 20% compared to conventional steel fiber products.

ULTRA / High BUNDREX®


Tensile Strength : 1,500 ~ 2,200MPa
The recently developed steel fiber which has extremely high tensile strength, enabling higher concrete performance.

BUNDREX®


Tensile Strength : 1,100 ~ 1,350MPa
Standard type steel fiber with its quality and performance.
General Feature of BUNDREX® Steel Fiber
Physical Property Change of the Concrete
BUNDREX® induces concrete's property from brittleness to ductility and increases its toughness
and durability significantly.
Expected Effects for
Concrete
Following to each concrete properties, Bundrex SFRC
effects can be remarkably increased.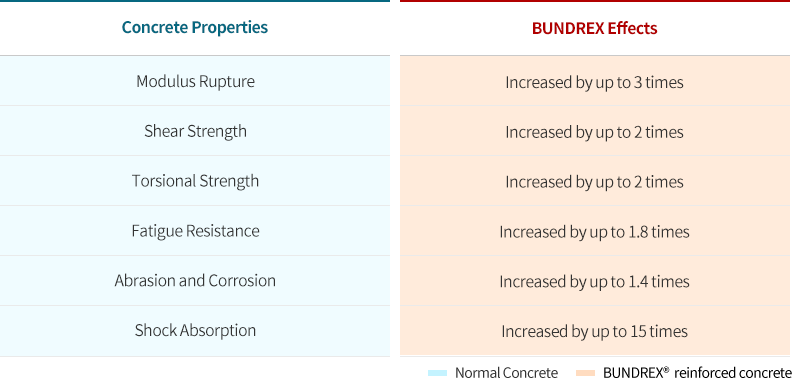 Physical Property
Comparison

BUNDREX® Features
Adding BUNDREX steel fibers to the concrete mix helps giving the concrete a higher tensile strength, together with improving flexural toughness and crack resistance.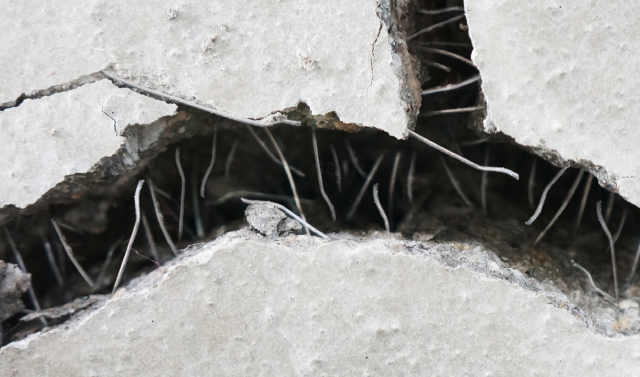 • Increases fatigue resistance, flexural toughness,
shear force, flexibility, percussion resistance,
and fracture resistance of concrete
• Increases resistance to drying shrinkage
• Increases abrasion durability, erosion resistance
and corrosion resistance
• Minimizes maintenance and repair expense
• Reduces section thickness of concrete by
enhancing physical properties of the concrete
• Reinforces physical cohesion of concrete by
even dispersion of steel fiber
• Improves constructability, cost-effectiveness
and safety by not installing wire mesh
• Offers three-dimensional reinforcement effect
within concrete